Agent Customer Analytics
Agent Customer Analytics is a data-driven approach to customer service that harnesses the power of NLP (Natural Language Processing) technology to extract meaningful insights from your contact center interactions. With its high accuracy, you can gain a deep understanding of what drives customer satisfaction, identify areas for improvement, and ultimately enhance the customer experience.
The solution's user-friendly dashboards offer a visual representation of the data, making it easy to understand and act upon. By analyzing everything from call volume and resolution times to customer sentiment and agent behavior, our platform helps you identify key areas for improvement and optimize your service delivery accordingly.
With Agent Customer analytics, you can take your customer service operations to the next level. Its advanced NLP technology and intuitive dashboards provide the insights you need to deliver exceptional customer experiences and drive customer satisfaction.
Initial App Installation
Go to Microsoft AppSource, and click to install the Agent Customer Call Analytics Power BI app from Inference Labs.
After successful installation, the app will be available in the Apps section.

Key Features
Executive Summary: Provide a summary of the conversation between the agent and the customer. It provides information about the volume of calls, the length of sentences, and the quantity of words. The top keywords used by both the customer and the agent for various feelings are also extracted, along with the consumer and agent sentiment.
Analysis targeting the negative sentiments across the conversations: Provides the ratio of the negative keywords that were used by both the customer and the agent after extracting the negative sentiments. It also sheds light on how the speaker contributed to unfavorable calls.
Call wise analysis: Provide details about each call's conversation. It provides a window into the conversation and indicates if the call was positive, negative, or neutral.
Agent wise analysis: Gives information about the performance of the agent. It provides information on the number of calls an agent has answered as well as the percentage of unfavorable segments they have dealt with.
Smart feature detection: Determines the percentage of specific keywords that were mentioned in relation to the product by both the consumer and the agent by analyzing their conversation.
Sentiment vs feature: Gives a report on the most popular keywords used to express various emotions.
Full conversation drill through: Access to the full customer conversation.
Procedure to Connect data
After clicking connect data,
Give the location of production excel file in SharePoint. Please find the template here.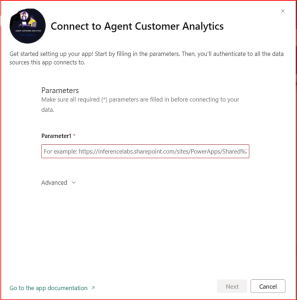 After Next,
Choose the relevant authentication method.
When you are connecting to SharePoint, choose the authentication method as OAuth2 and Organizational. The dashboard will refresh with your new data. These are sample dashboards, and we can help you customize as per your requirement.
If you have any questions about the Dashboard or need assistance, contact us here  or write to us growth@inference.in.
Its time to build your Dashboard
Feel free to get in touch with us to build your custom dashboard, or if you need help with ETL