Feedback Analytics 
Welcome to the world of Customer Feedback Analytics. In today's hyper-competitive market, understanding your customers' needs and preferences is crucial to building a successful business. That's why we've developed an innovative solution to help you analyze and act on customer feedback: Customer Feedback Analytics. Our powerful platform uses advanced data analysis techniques to identify key trends and insights in customer feedback, giving you the tools, you need to make informed decisions and drive your business forward.
What is Customer Feedback Analytics?
Customer Feedback Analytics is a data-driven approach to understanding your customers' needs and preferences. By analyzing feedback from a variety of sources, including e-commerce website reviews, and social media, our platform helps you identify trends and patterns in customer sentiment and behavior. This approach enables you to make informed decisions about product development, marketing, and customer service, ultimately improving customer satisfaction and driving your business forward.
Initial App Installation
Go to Microsoft AppSource, and click to install the Agent Customer Call Analytics Power BI app from Inference Labs.
After successful installation, the app will be available in the Apps section.


Key Features
NPS score and category

Measure negative sentiments

Smart detection of Keywords

Usage of Keywords with Sentiment
Procedure to Connect data
After clicking connect data,
Give the location of production excel file in SharePoint. Please find the template here.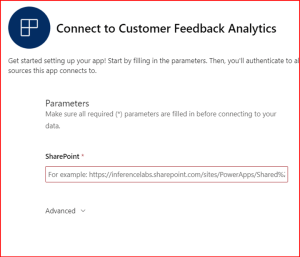 After Next,
Choose the relevant authentication method. 
When you are connecting to SharePoint, choose the authentication method as OAuth2 and Organizational. The dashboard will refresh with your new data.

These are sample dashboards, and we can help you customize as per your requirement.

If you have any questions about the Dashboard or need assistance, contact us here or write to us growth@inference.in.
Its time to build your Dashboard
Feel free to get in touch with us to build your custom dashboard, or if you need help with ETL